History of John Guess Family
By Stuart D. Neel
John Guess, the father of Rebecca Guess Neel, was born about 1750 based on census records but we have yet to discover where he was born or his ancestors' country of origin. He first turns up in the historical record in 1778 in Granville Co., North Carolina. In the late 1700s and early 1800s, there are other Guess families living in North Carolina but most are located in nearby Orange County. Many of these families emigrated from Virginia. It may be that John Guess is related to these families in some way, but to date we have been unable to make a connection.[1]
Granville County was situated in a region populated mostly by poor farmers. Scotch-Irish Presbyterians were widespread in the backcountry of the Carolinas. These people had a reputation for being "belligerent, loyal, bigoted, valiant, crude, and tough. The men drunk hard, fought hard, and moved often." Their young women shocked sensibilities with "public displays of bosoms and legs rarely seen in eighteenth-century America." [2] The Scotch Irish were often referred to as "white savages."
On 5 August, 1778 John Guess and his father-in-law, Leonard Linsey are among those who refused to take an "Oath of Allegiance" to the new Continental Congress. There are a number of reasons why John and Leonard may have refused to take this oath that may provide insights into the Guess family. The Guess and Linsey families may have been sympathetic to the Tory cause, "Kings Men," as many North Carolina families in this area were loyal to the crown. Indeed, the back country of North Carolina during the revolutionary war was the scene of many intense battles between Tories and rebel militia. Samuel Biggerstaff, who married John Neel and Rebecca Guess in Kentucky, was the son of a notorious Tory from Guilford county, North Carolina.[3]
A second possibility is that John and Leonard may have been involved in the "Regulator" movement in the 1760s in North Carolina. This was an attempt by the poorer settlers to assert their legal rights against local officials. The movement was crushed by the ruling elite; many Regulators were reluctant a few years later to fight for the cause of those same officials who had so brutally treated them only a few years earlier.
A third explanation could be that if Leonard and John were Quakers they might resist taking the oath on religious grounds. No evidence has suggested that they were Quakers. But there was a sizable Quaker community in the Granville area during those years; "Leonard" is also a common name among the German Quaker community.
In March 1780, John "Guest" purchased 287 acres of land from his brother-in-law Elisha Linsey with the proviso that he provide for his wife's parents, Leonard and Sarah Linsey.
His daughter Rebecca, who may have been his oldest child, was born about this time. A few years later, in March 1783, his son Jesse is born. According to census records, it appears that two more daughters were born in North Carolina, Susan and Elizabeth, but around 1789, John moved to Madison County, Kentucky where he first shows up in county tax records. Another daughter, Fanny, may have been born in Kentucky before his last sons, James and John, were born around 1794 and 1796. [4]
Many poor farmers in North Carolina and other states moved to Kentucky in the post-war years looking for cheap land. Madison County was the home of Ft Boonesborough and many of the original settlers who accompanied Daniel Boone still lived in the area. While John probably made his living primarily by farming, he no doubt supplemented his harvests through hunting. An artist's rendition of a typical Kentucky "long hunter" shows how some of the early settlers may have looked. Even if John Guess himself did not dress this way, he probably was familiar with many men who did.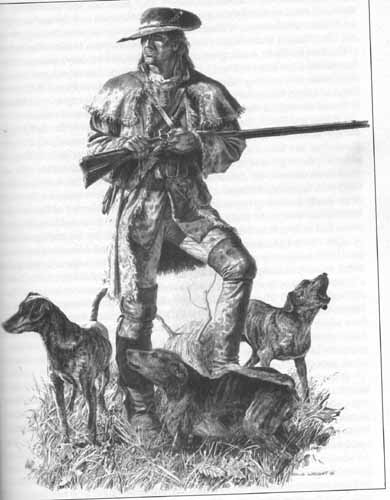 "The Long Knife" by David Wright, Gray Stone Press, Nashville, Tennessee. Taken from the book "The Life of Daniel Boone" by Lyman C. Draper, edited by Ted Franklin Belue, page 209. Belue writes: "His hat is of fur felt; his caped "hunting shirt" is of linen, as are his breeches. His moccasins and leggings are deerskin and he cradles a long rifle. The dogs are brindled Mountain Curs, a breed of the day." (John Clair Neel told one of his grandsons, with tongue in cheek, the story that his grandfather wore deerskin trousers; they worked well until it rained when they would stretch and become too long; once his grandfather cut off the extra length with his knife, but, of course, once the trousers dried he was left with "shorts.")
In September, 1795 John "Gess" of Kentucky sold land to his kinsman William Searcy of Granville Co, KY and in November of 1796, his father–in-law's estate was settled, and Mary "Guest" received 34 acres of land along with her four sisters. By this time, John Guess appears to be settled on Jacks Creek in Madison County. Over the next 25 years, Jacks Creek is his home. This land apparently stayed in the Guess family for many years through the descendants of fourth son, John, born in 1796. Correspondence with some of these descendants indicated they were still holding family reunions on the site of the old homestead in 1971. John apparently passed away in 1822 and on Oct 11, 1822 a Court order was issued to settle his estate.
Jesse Guess
John's eldest son Jesse moved from Madison County to the area that became Anderson County, Kentucky around 1812. There he became a farmer, prominent justice of the peace, and leading citizen. He was the presiding judge when Anderson County was organized in February 1827. The History of Anderson County contains this amusing and insightful anecdote concerning Jesse:
"The justices of the first county court in Anderson Co were men of fairly good education and general information for that day. The presiding Justice, Jesse Guess, wrote the wills and deeds for his neighbors. In 1838 he ran for the Legislature against John Drafton, and an anecdote connected with that election has come down to us from Jeremiah Posey who told it to his son, the late Judge Posey. That election lasted three days and in the last day when Esquire Guess was leaving home his wife called to him, "Oh Jesse, do you think you will be elected today?" -- to which he replied: "I don't know Nellie, but I hope so." Then she interrogated, "Well, if you are elected to the Legislature, what will I be?" -- to which he made the brusque reply: 'You'll be the same damned fool you always were.' John Draften won the election and Esquire Guess removed to Illinois where he lived and died. "
[1] A well-known family with the last name of Gass was among the earliest settlers of Madison County, Kentucky. David Gass was a member of the exploring parties headed by Daniel Boone and is listed as one of the first settlers at Fort Boonesborough. This Gass family origins are traced from Ireland to Pennsylvania, Virginia, and then Kentucky. A member of this family, Patrick Gass, was with the Lewis and Clark expedition. Much research has failed to find any definitive kinship relationships between John Guess and the David Gass families. John Guess is often listed as John Gass or Gess in early Madison County records, creating considerable confusion in sorting out the various families. Some intriguing connections do exist between the two families although they may be coincidental. For example, some of David Gass's children married into a Black family that emigrated to Missouri; John Neel Sr. is found in Ray County, Missouri in 1830 living next door to a William Black from Kentucky.
[2] "Road to Guilford Courthouse," by John Buchanan, p 85-86.
[3] An example of an oath of allegiance is from Bute Co. NC: " I will bare faithful and true allegiance to the State of North Carolina and will truly endeavor to support maintain and defend the Independent Goverm't thereof against George the third King of Great Britain and his successors and the attempts of any other persons, prince, power, State, or potentate who by secret are treason conspire copies or by open force shall attempt to subject the same and I will in every respect conduct myself as a peaceful orderly subject and that I will disclose and make known to the Governor (or) some member of the Council of State or some Justice of the Superior Courts or of the peace all treason conspiracies and attempts committed or intended against the State which shall come to my knowledge so help you God." The Oath had to be administered by justices of their districts to qualify the men to vote for members in the election. Miscellaneous County Records 1774-1804. The men had to sign the oath to vote in the election.
Aaron Biggerstaff was killed in the famous Battle of Kings Mountain in North Carolina where he fought on the side of the British. "Road to Guilford Courthouse," by John Buchanan, p 240.
[4] According to LDS temple work completed in 1917, John's three daughters after Rebecca were named Susan, Elizabeth, and Fanny. This information may have come from John Neel, Jr. None of these daughters apparently married and appear to be living with their brother John Guess in Madison Co., KY in the 1840 census.